Mernickle Custom Holsters is a leading producer of Fast Draw, Cowboy Shooting, Authentic Western, and Personal Carry holsters.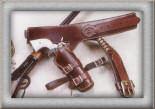 Tombstone Leather Products - Making some great Fast Draw rigs.


JJ Timers - JJ Timers specializes in building and fixing electronic, and mechanical, Fast Draw timers used for sport and recreation. We repair all types of timers including chronodek, dual competition and sweep timers. We also can customize timers and make special electronic adaptors to meet your needs.



James & Guns - Quality gunsmithing of the Single Action Army Revolver. Bob James proprietor - aka: The Arizona Thumber

C&R Wax Bullets - Wax bullets for Fast Draw competition or practice.


Spitfires Wax Bullets - Two and a half years of development and testing different designs, with feedback from many top shooters, has produced the most accurate wax bullets on the market.



Alfonso's of Hollywood Gunleather - One of the top producers of Hollywood and Fast Draw holsters for the past 40 years.


---
Fast Draw Web Sites & Clubs:
Alamo Fast Draw Podcast - Fast Draw and western movie live on-line show Sunday & Wednesday evenings, or listen to the recordings later or download the podcast.



Bearspaw Fast Draw Club - Bearspaw, Alberta, Canada



Desperados Fast Draw Club - Modesto, California.

Dutch Fast Draw Association - Fast Draw in the Netherlands.

Fast Draw 101 with Howard Darby - Instructional Fast Draw videos Gunfighter Gulch - Lots of good historical information on the sport of Fast Draw.

The Gunslingers - Fast Draw in Scotland. This link is to the club forum.

Reed Point, Montana Fast Draw Club - Information on Fast Draw and and the group in Reed Point, Montana headed by Ron & Diana Martinez.


Ohio Fast Draw Association - Not just Ohio... they have members and contests all up and down the eastern parts of the US.

Thunderbird Fast Draw Club - A Fast Draw club that shoots out of Langley, B.C., near Vancouver.


World Fast Draw Association - The largest organization in the sport.

World Fast Draw Association - Japan - The Japanese branch of the WFDA.