1). Single action revolvers only may be used. No caliber smaller than a .32 (.312), or larger than .45 (.454) may be used.

A gauge is placed in the end of the barrel to check the diameter.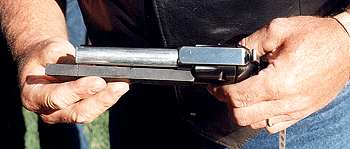 2). The barrel shall be no shorter than 4 5/8".

This picture shows a gun being checked with an official WFDA gauge. The barrel length is measured from the front of the cylinder. Notice that this barrel is just slightly longer than the mark on the gauge.


3). The trigger guard may be cut down, but not through. The trigger shoe may not extend beyond the edge of the trigger guard on the side of use.


4). Cylinder slots may be deepened but not cut through.


5). The hammer may not stick up or out more than 1/2" from the rear center of the top strap.

The gauge is held level to the barrel while the measurement is taken.


6). The hammer must hold on full and half cock when the gun is reasonably jarred. An exception will be the new model Ruger or other single action revolvers which feature safety devices on their original construction.


7). All parts must be installed and functioning. Sights are optional.


8). The new Ruger may be modified to work the same as the old model Ruger, with the same requirements as the old model.


9). The WFDA does not encourage the use of aluminum barrels or cylinders.


Video of the WFDA gun check procedures
---
Return to the Fast Draw main page