The 2005 Thumbing World Championship again attracted shooters to the Arizona desert to participate in this annual world championship of the Thumbing style of Fast Draw.



| | | |
| --- | --- | --- |
| Jennifer Knick, the Women's Thumbing champion. | Bob James, the Men's Thumbing champion. | Smitty Polhill |
| | |
| --- | --- |
| At right are the winners of the Thumbing Championships, Bob James & Jennifer Knick, holding the custom revolvers awarded to each winner. This was Jennifer's fifth straight win of the women's world title, and Bob's second win. On either side of Bob & Jennifer are the hosts of this contest, Gary & Joyce Tryon. | |

All shooters from the World Thumbing Championship





The thumbing championship was held on Friday, March 11th, with the Wild West World Championships following on the 12th and 13th. The Wild West World Championships was an Open style contest with six events.


| | |
| --- | --- |
| Jay Faughn & Matt Pouliot shooting Double Balloons. | Michael Pantano Sr. & Sherry Kelly shooting Doubles. |
| | |
| --- | --- |
| Mark Hullen & Cal Eilrich (2nd & 1st place in the contest) shooting Standing Blanks. | Margie Murphy & Jennifer Knick (2nd & 1st place Women). |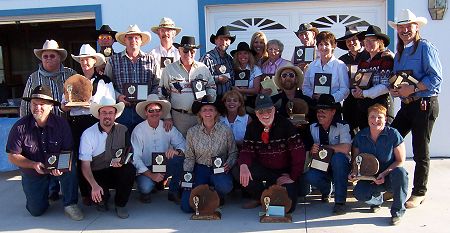 All the trophy winners from the Wild West World Championship




Women's and Men's winners of the Wild West World Championships:
Jennifer Knick and Cal Eilrich, along with hosts Joyce & Gary Tryon



The Junior division shooters:
(l-r) Nikki, Drew Wright, Kirsten Schulte,
Stephany Ford, Coren Schulte, and Clayton
* View results of the 2005 World Thumbing Championships *
* View results of the 2005 Wild West Championships *