The 2004 Thumbing World Championship again attracted shooters to the Arizona desert to participate in this annual world championship of the Thumbing style of Fast Draw.



| | |
| --- | --- |
| Jon Wilson, the Men's Thumbing champion, in action. | Tye Faw. This picture captures the shot at the moment of ignition.... the shot did break the balloon. |
| | |
| --- | --- |
| At right are the winners of the Thumbing Championships, Jennifer Knick & Jon Wilson, holding the custom Bob James revolvers awarded to each winner. This was Jennifer's fourth straight win of the women's world title, and Jon's first. | |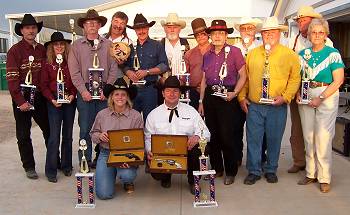 The trophy winners of the World Thumbing Championship





The thumbing championship was held on Friday, March 12th, with the Wild West World Championships following on the 13th and 14th. The Wild West World Championships was an Open style contest with six events.


| | |
| --- | --- |
| l-r: Phil McNaughton, Bob James, Bob Mernickle and Howard Darby waiting for the light. | Jennifer Knick & Nicole Frank. |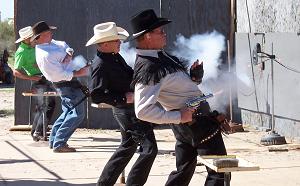 In this picture you can see shooters in action during the 10' Standing Blank event.
left to right: Joe Colwell, Paul Reginaldi, Chuck Burnham, G.W. Jones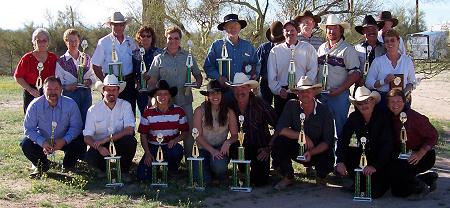 All the trophy winners in the Wild West World Championship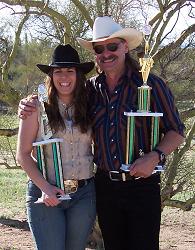 Women's and Men's winners of the Wild West World Championships:
Nicole Franks & Bob Mernickle



| | |
| --- | --- |
| | At left are the "Billy the Kid" division shooters: Taylor Faw, Tyrell Faw, Timothy Faw, Alexander Pumerantz, Colby Qualls. |
* View results of the 2004 World Thumbing Championships *
* View results of the 2004 Wild West Championships *