The 2003 Thumbing World Championship again attracted shooters to the Arizona desert to participate in this annual world championship of the Thumbing style of Fast Draw. Forty-two competitors shot it out in three wax and two blank events.


| | |
| --- | --- |
| | At left are the winners of the Thumbing Championships, Bob James & Jennifer Knick, holding the custom Colt awarded to Bob. This was Jennifer's third straight win of the women's world title. |

The thumbing championship was held on March 14th, with the Wild West World Championships following on the 15th and 16th. The Wild West World Championships is an Open style contest with six events.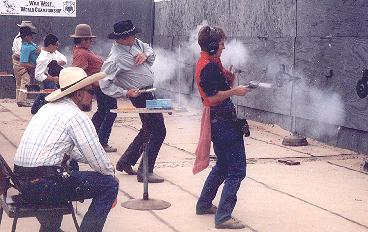 The contest had six targets in action at all times, with all six
shooters firing at the same time. In this picture you can see
shooters in action during the 8' Standing Blank event.
left to right: Whip Grady, Harold Kelley, Thomas Guerra,
Bob James, Bob Graham, Mary Knick



This contest was "Open" style, which allows shooters to use any legal draw style. Most WFDA contests in recent years have been Traditional style contests, which don't allow the use of the Twist draw.

The top picture at right shows Howard Darby using a Traditional speed draw, firing the gun just as it clears the holster. The bottom picture shows Sherry Kelley using the Twist style, where the gun is twisted out of the holster and is fired while on it's side. You can visit the page on Classifications for more details on Traditional and Open styles of shooting.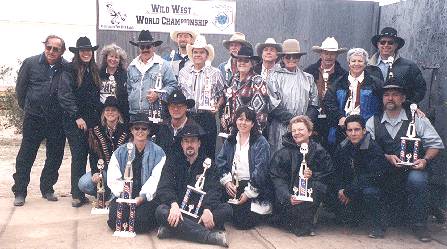 All the trophy winners in the Wild West World Championship




Men's and Women's winners of the Wild West World Championships:
Howard Darby & Sherry Kelley


* View results of the 2003 World Thumbing Championships *
* View results of the 2003 Wild West World Championships *