The 2002 Thumbing World Championship was again one of the the largest Thumbing only contests. Forty-two competitors shot it out in three wax and two blank events.



Above is Bob James (left) and Smitty Polhill. Bob is shooting in the 8' blank event, while Smitty is about to fire his shot in the 10' wax event.



| | |
| --- | --- |
| | At left are the winners of the Thumbing Championships, Miles Miller & Jennifer Knick, holding the custom Colt awarded to Miles. |


The thumbing championship was held on March 15th, with the Wild West Championships following on the 16th and 17th. The Wild West Championships is an Open style contest with six events.



The contest had six targets in action at all times, with all six shooters firing at the same time.

In the top picture at right you can see shooters in action during the 10' Standing Wax event. The bottom picture shows shooter competing in the 10' Standing Blank event.







| | |
| --- | --- |
| | This contest was again an international event, with shooters from four countries including the U.S.A., Canada, Scotland and Germany. To the left you can see the four Scottish shooters in attendance, along with one of their country women to cheer them on. |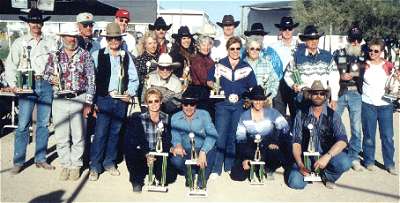 All of the trophy winners in the Wild West Championship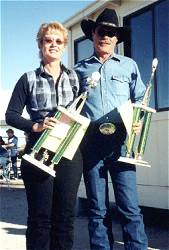 Women's and Men's winners of the Wild West Championships:
Sherry Kelley & Harold Kelley (yes, husband & wife)


* View results of the 2002 World Thumbing Championships *
* View results of the 2002 Wild West Championships *