For 2001 the Wild Bill Hickok Fast Draw contest moved to the main street of Deadwood, and was the World Wax Elimination Championship. Prior years had seen the contest being a Blank elimination event, but the ammunition this year consisted of wax bullets propelled by six grains of black powder. The target was a steel plate at ten feet.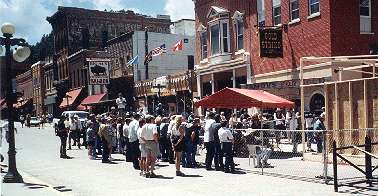 The shooting areas were located on the main street of Deadwood, which had been shut down to traffic. There was a good crowd watching the action both days.




Gill Guerra Sr. (left) and Armand Perry, both of Southern California, competing in Men's A division. Being an elimination contest there were three division for Men and Women broken down by speed classes (AA, A, B). The shooters in each class were paired up and shot it out, trying to hit their target faster than their opponent when the lights came on. The first person to win three shots won the round. A shooter had to loose three rounds to be eliminated from the contest.




Nicole Franks (left) from British Columbia and Alanna Blinn of Alberta shot it out in the final round of the Women's AA division. These two young shooters (14 and 16 respectively) fought a tough battle that came down to a final single shot where the fastest draw won the World title.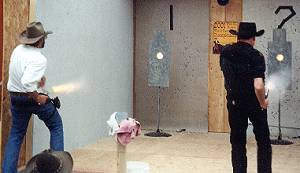 Mark Hullen (left) of Northern California and Howard Darby of Alberta in the final round of AA Men. The fastest time shot in this contest was .267 of a second, including reaction time.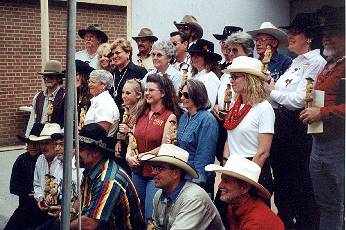 The trophy winners from all six divisions.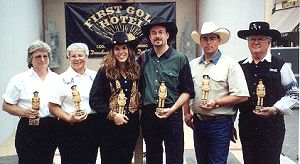 The division winners of the 2001 Wild Bill Hickok World Elimination Championships


left to right: Carla Howell (B division Women's winner), Anita Burnham (A Women's), Nicole Franks (AA Women's), Howard Darby (AA Men's), Tye Faw (A Men's), Gary Adrian (B Men's)