The World Elimination Championships was a Traditional Style contest that saw the fastest guns in the sport compete for the 2000 world title. This was a 3-out-of-5, 3X contest, meaning that you had to beat your competitor 3 shots, and you had to loose 3 rounds of shooting before being eliminated from the contest. The contestants were split into 3 divisions for women, and 3 divisions for men (AA, A & B) depending on their speed classification, with AA being the unlimited, fastest class.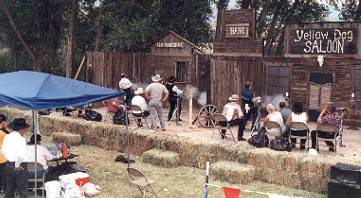 This is the contest site of the 2000 World Elimination Fast Draw Championships.
| | |
| --- | --- |
| Women's "AA" division finalists Joyce Tryon (far side) and Nicole Franks. | Women's "B" division finalists Ashley Colwell (closest) and Shirley DeMerritt. |
| Men's "AA" division finalists Bob Bussinger (far side) and Richard Parmentier. | Men's "B" division finalists Jim Yager (closest) and Bill Duff. |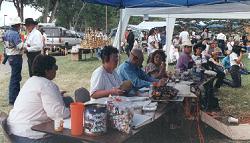 The scorekeepers and clock operator hard at work.

The trophy winners at the World Elimination Championships. Top winners kneeling in the front row (l-r): Joyce Tryon (2nd AA Women), Bill Duff (1st B Men), Bob Arganbright (1st A Men), Bob Bussinger (crouching down-2nd AA Men), Richard Parmentier (1st AA Men), Nicole Franks (1st AA Women), Carol Cozzitorto (1st A Women), Ashley Colwell (1st B Women).