For the last ten years the Wild Bill Hickok Elimination Championships have been one of the favorite stops on the Fast Draw Top Gun Tour.




The shooting took place on a stage on the local football field. Four shooters competed on the stage at one time, with the two on the right shooting out against each other, and the two on the left doing the same. The first person in each pairing to win three shots won the round. A shooter had to loose three rounds to be eliminated from the contest.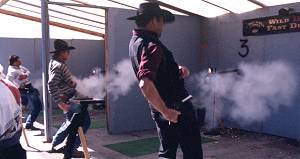 Three shooters in action. Left to right: Steve Shaefer, Greg Danielson and Howard Darby.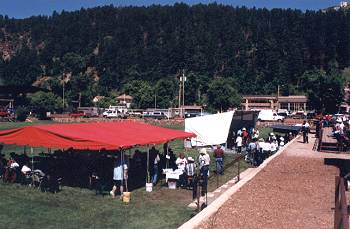 The red tent on the left was the shooter preparation area. The shooting stage is behind it, with the South Dakota Black Hills in the background.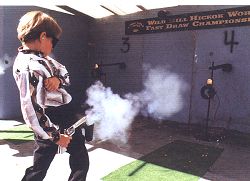 Young Tristen Burnham competing in Men's "A" division.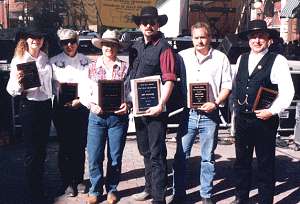 The division winners of the 2000 Wild Bill Hickok Days Championships


left to right: Ashley Colwell (B division Women's winner), Anita Burnham (A Women's), Joyce Tryon (AA Women's), Howard Darby (AA Men's), Del Burnham (A Men's), Jim Yager (B Men's)