The 2000 Thumbing World Championship was one of the the largest Thumbing only contests. Fifty-three competitors shot it out in three wax and two blank events.

From left, the picture above shows Joyce Tryon (co-host and sponsor), Linda Faughn (Women's World Champion), Bob James (Men's World Champion), and Gary Tryon (co-host and sponsor).

The thumbing championship was held on March 17th, with the Wild West Championships following on the 18th and 19th. The Wild West Championships is an Open style contest, and one of the largest Fast Draw shoots on the calendar.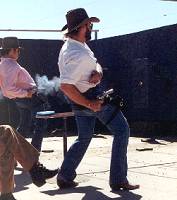 Bob James can be seen on the left continuing to use his championship Thumbing style to compete in the Wild West contest. On the right is top shooter Mark Hullen. This event is 12' Standing Wax at the 20x40 target. Times for these two shooters range from .27 to .35 of a second (including reaction time).




Frank Lawton of South Dakota demonstrating his style at the 8' Standing Blank event.




This is Northern California new shooter, Laurie, competing in the 12' wax event.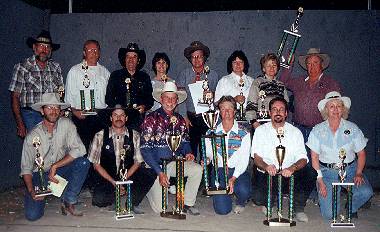 The winners of the 2000 Wild West Championships


Back row: Jim Yurasek (10th M), Red Herron (5th M), Armand Perry (9th M), Carol Cozzitorto (4th W), Bob Arganbright (7th M), Jean Bussinger (5th W), Monica James (3rd W), Gary Tryon (3rd M)
Front row: Jerry Simpson (6th M), Michael Pantano (4th M), Ron Phillips (1st M), Joyce Tryon (1st W), Howard Darby (2nd M), Marg Tinsley (2nd W)

(M=Men's Division, W=Women's Division)


You can view the results of the 2000 Thumbing World Championship (69k), or the Wild West Championships (128k).