The 1997 All-Around World Championship encompassed ten events, two styles (Traditional and Open) and Index and Elimination shooting over three days to determine the best in the world.

Each day's shooting started with a shooters meeting. In the picture above you see Cal Elrich, the match director, addressing the shooters.




This is Tom Dupuy of Arizona shooting the Walking Wax event. In this event the shooter stands behind a line eighteen feet from the target, and starts walking when the command is given. Somewhere between twelve and fifteen feet from the target the light will come on, signalling the shooter to draw, fire and hit the target as fast as possible.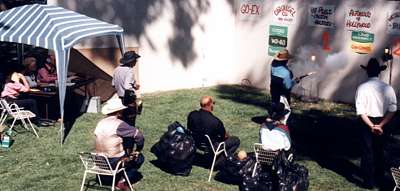 Al Miles of California shooting the Double Balloon event.


Cal and Dinah Elrich of Nevada were the men's and women's winners of the 1997 All-Around World Championship. Cal shot an almost perfect contest with not a single miss or recovery through the nine index events. That made for 46 perfect shots!


You can view the results of the 1997 All-Around World Championship.