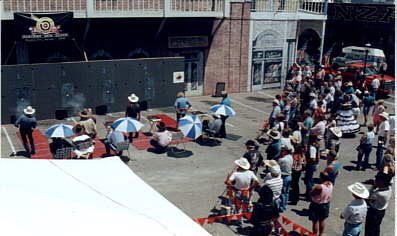 The Fastest Gun Alive Tournament was one of the largest contests in the history of Fast Draw, with over $30,000 in cash and merchandise on the line. The competition involved two days of qualifying that consisted of ten shots each at eight, ten, and twelve feet (wax bullets at steel targets). The top ten men and six women went on to a 5X elimination tournament on the Sunday. This contest was held in a parking lot off the main street of Virginia City, and was a big draw for all three days.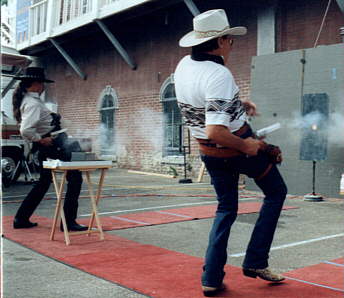 Gil Guerra, Jr. (left) won the Fastest Gun Alive Tournament after this final elimination round against Jim Standridge.




Linda Faughn of northern California (far side) took the women's title after a number of intense final rounds against Linda Ballard of Arizona.